The key to the success of collaboration is people.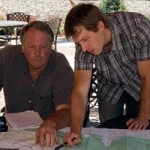 After discussions with local citizens, elected officials, agencies and groups, the Clearwater Basin Collaborative came together to "…work together toward a better future for the residents and resources of north-central Idaho."
The Clearwater Basin Collaborative is a diverse group of individuals dedicated to working collaboratively to provide find solutions and provide recommendations regarding natural resource management issues.  Their collective vision is to enhance and protect the ecological and economic health of the forests, rivers and communities within the Clearwater Basin.
The six-million-acre Clearwater Basin is a national treasure characterized by vast tracts of public lands.  Traditional homeland of the Nez Perce Tribe, and playground and work place for many of the area's residents, these lands are nationally renowned for their remote and relatively undeveloped character.
CBC members and participants desire predictability and more effective public involvement with the Forest Service and other decision-makers. A strong element of our success is based on the increased level of trust that facilitated communication has built.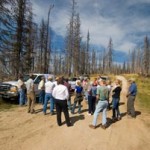 A primary long-term intent for the CBC is to be proactively involved in the development of various proposals and plans, and to ensure consideration of diverse interests so that opposition, appeals and litigation is minimized. The CBC feels strongly that collaboration provides a valuable approach to facilitating communication between public interests and decision-makers.
On May 29, 2008, after years of conflict regarding the management of national forests in north-central Idaho, Idaho Senator Mike Crapo convened a diverse group of individuals and challenged them to collaborate to find solutions to divisive natural resource issues. Since its inception CBC members have worked on a multitude of projects and issues with the Forest Service. In May 2013 the Collaborative developed a long-term "Agreement and Work Plan" that articulates their intent to address specific issues through administrative and legislative actions over time.