There are areas within the Clearwater Basin that have special considerations, amenities or characteristics that deserve protection outside of the legislated designations of Wilderness, NRA or Wild & Scenic Rivers.  Two of these areas are Pilot Knob and West Meadow Creek.
There are areas in the Basin that need protection outside of Wilderness or Wild & Scenic River legislation.
CBC is committed to working with the Nez Perce Tribe on cultural site protection.
Background
Homeland of the Nez Perce Tribe for thousands of years, the Clearwater Basin is rich in cultural values and special places.  Pilot Knob is a mountain summit in Idaho County, Idaho that climbs to 7,123 feet above sea level.  Historically, an important "vision quest" site for the Tribe, it has concurrently become a popular electronic site for the last 50 years.  Radio, television and cell towers populate the peak providing service for private entities, the Forest Service and County Search & Rescue efforts.
West Meadow Creek, was initially one of the areas considered for proposed Wilderness designation by the Land Allocation Subcommittee of the CBC.  It was removed from consideration as a compromise of the Subcommittee as the most controversial area discussed.  A critically important anadromous fish area, it was a significant concession al-though addressed with the agreement to propose it as a Special Non-Motorized Use area.
The ATV Trail was intentionally left outside the non-motorized use area as an important use area for local residents.
Current Situation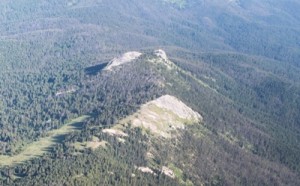 PilotKnob: The Nez Perce Tribe has expressed interest in securing protection for Pilot Knob and the CBC is committed to working with them to craft solutions for this issue.  The hope is that over time the need for electronic hardware will dissipate with technological improvements and Pilot Knob can return to its original cultural use.
West Meadow Creek:  The CBC has consensus agreement on a non-motorized special management area designation for the West Meadow Creek area.  Work on a specific management strategy for the area will be a collaborative effort with the Forest Service.